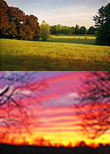 The miraculous energy in Holy Mountain, which is the sacred land of both Buddhism and Catholicism, can help modern people to relieve the life pressure they face every day. By arranging a spiritual journey to the Holy Mountain for helping their employees to retrieving health in the Holy Land, many industries can substantially relieve themselves from their heavy burden of paying their employees' medical expenses. In addition, the unique geographic landscape can help people experience the miraculous power of the nature, form self-confidence and courage, and cultivate positive life philosophy. Eventually, taking journeys to the Holy Mountain will greatly benefits the industries themselves.
As early as 6:30 at dawn, some people with their families, both the young and old, are promenading on the Shrine Road in the countryside of Eastern America. The picturesque scenery is as beautiful as a wonderland; the miraculous energy of the Holy Mountain nourishes those who come for practice and for enjoyment.
Ms. Tai is one of them. She says that she becomes much healthier than she used to be. She neither took any medicine nor went to see the doctor in the past three years. Therefore, spiritual practice in the Holy Mountain is not merely to improve health conditions, but to foster the patience, benevolence and loving hearts of children.
The choice of spiritual practiceˇXbeing away from the earthly world for a while and cultivating the endurance of hardshipˇXattracts young spiritual practice seekers from all around the world. A clergy from the Western Shrine on the Holy Mountain says that family members will see positive effect to their health and improvements in their characters. They will become open-minded, tolerant, easygoing, and respectful for the old and young. Their family will become harmonious.

Therefore, the practice not only greatly improves practitioners' physical conditions, but also retrieves their true inner tranquility and purity. They can face their lives and works with peaceful and pleasant minds after the practice. For those who have been living in the restless city life for a long time, the journey of spiritual practice in the embrace of Nature and the Holy Mountain can bring them unsurpassed joy and rejuvenation, and purify their souls as well.